Internship In Tanzania
Want to join internship abroad program in Tanzania to Gain real world experience and make a difference in the world?
Join one of Boundless Love's affordable internship programs in Tanzania,
which offer an exhilarating challenge
of real-world experience combined with professional skill building and cultural immersion.
No matter what kind of internship experience you want to take part in, we can create a program that will suit your needs..
Internship Programs In Tanzania
Tanzania's most affordable internship placements start at $145 per week
Pay fees directly to your host families and projects.
Safe and meaningful internship experience
Feel free to choose from wide range of programs that suits your interest, career choice and area of study.
Global Crossroad collaborates with various projects and organizations in Tanzania and provides an array of internship projects for learning enthusiasts like you, ranging from projects, English teaching projects to women's development projects. If you want to get a unique internship experience full of excitement, internship programs in Tanzania can be the best choice for you.
Tanzania is one of the most beautiful countries of Africa, with its mesmerizing landscapes and exciting wildlife experiences. The variation in geography will have you astounded, with the great views from Mt. Kilimanjaro and the beautiful beaches of Zanzibar.
To get a head-start on your Tanzania adventure, take a few moments to contact us by email for more information, including travel dates, fees and more. We look forward to hearing from you.
Dates: Internship In Tanzania
All Internshiping in Tanzania programs start each Monday, though we allow for flexibility due to travel constraints.
Prices: Internship In Tanzania
Most affordable prices for quality Internship work in Tanzania are through Global Crossroad. We strive to keep our costs low. The humanitarian side of the business is our passion.
Global Crossroad's Internship abroad in Tanzania application and registration fee cost US $299. In addition to the application fee, Internships are required to pay weekly program fee. You pay your weekly fee directly to your host families and projects. This way, the fees you pay will benefit those who deserve it (not for company profit).
| Duration | Orphanage/Teaching/Women Empowerment | Medical/HIV |
| --- | --- | --- |
|   1 Week |   $175 |   $200 |
|   2 Weeks |   $300 |   $350 |
|   3 Weeks |   $425 |   $500 |
|   4 Weeks |   $550 |   $650 |
|   5 Weeks |   $675 |   $800 |
|   6 Weeks |   $800 |   $950 |
|   7 Weeks |   $925 |   $1100 |
|   8 Weeks |   $1050 |   $1,250 |
|   9 Weeks |   $1175 |   $1,400 |
|   10 Weeks |   $1300 |   $1,550 |
|   11 Weeks |   $1425 |   $1,700 |
|   12 Weeks |   $1550 |   $1,850 |
Mandatory Comprehensive Travel Insurance $3.49/day
Airport pick up $60
Summer volunteer and adventure (4 weeks include safari) $1899
Program Fees Cover:
Accommodation (volunteer house)
Food (local food 3 times a day)
In-country support
Personalized project
Pre-departure information
Certificate of completion
Fundraising ideas and letters
Discount for returning volunteers
Program Fees Exclude:
Volunteer Permit (C permit)
Visas
Airfare
Personal expenses on soft drinks and foods
Daily transportation
Airport return transfer
C permit can be received upon arrival.
Orphanage Internship Project In Tanzania
With HIV/AIDS leaving a devastating number of children homeless and orphaned, Tanzania is still suffering as Africa's poorest nations. There is a large number of s taking care of an astounding number of orphaned children in Tanzania. Global Crossroad partners with these s, sending in interns to fill the gap of the under resourced s.
Interns will get involved in basic activities like teaching and taking care of children. They can teach English, math and science, and help the children with their homework. They can arrange for other activities like singing, dancing, art and craft too. Interns can also choose to work in the administration department to get an understanding on the day to activities of the administration.
Interns will learn how an runs, and will get a glimpse into the lives of orphaned children in Tanzania. Internship in the combines social work and personal satisfaction of contributing for the better of these children. The internship is an opportunity for professional as well as personal development; an experience that can be enriching and eye opening.
The internship does not have educational requirements and does not require skills and experience from the interns. But qualities like patience and flexibility are highly regarded.
Teaching Internship Project In Tanzania
Despite English being a national language of Tanzania, children from under privileged families strive hard to learn standard English as they cannot afford to go to schools that are well equipped with resources and qualified teachers. Teaching English Project by Global Crossroad, places interns to teach English to the children, helping children in developing their conversational and comprehension skills.
As teaching interns, interns will be responsible to conduct English classes under the local curriculum or help the English teacher conduct classes and classroom activities and make classes more interactive and fun. The interns can also help the teachers in curriculum development or can also choose to support the school administration in daily administrative duties too.
Interns will get firsthand experience in a local school, teaching children. They will get to learn more about classrooms, teaching styles and education, learning from teaching in challenging environments and situations. Interns will also get to travel to a new place for their internship, make their resumes stronger and get the satisfaction of giving back to the community.
Though no educational qualification and experience is required for the Teaching Internship Project, the interns should be flexible working in an environment different than they are used to and should be patient, as teachers.
HIV/AIDS Internship Project In Tanzania
Around 1.6 million people in Tanzania are living with HIV/AIDS according to survey results of 2011, which has given rise to the need for effective counseling and awareness about HIV/AIDS in the Tanzanian communities. Global Crossroad provides internship opportunities with HIV/AIDS Internship Project in local organizations working on HIV/AIDS in Tanzania.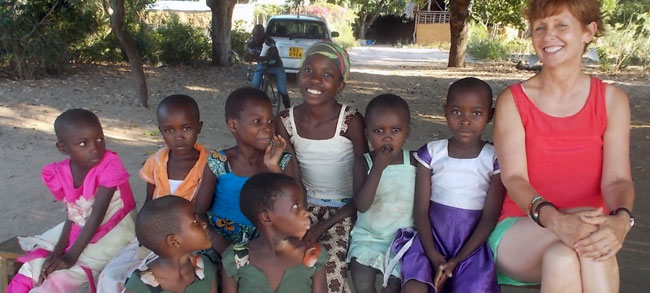 Interns for the HIV/AIDS project will participate in HIV/AIDS awareness campaigns and lead programs. They can also conduct counseling sessions to the locals infected by HIV/AIDS and visiting infected patients at their homes. They will also be responsible for providing educational trainings and promote support groups in the communities.
Interns in the HIV/AIDS project will get hands on experience in working with communities directly affected by HIV/AIDS. Interns will learn a lot and get a clear picture of HIV/AIDS and its impacts on the Tanzanian people. It is a good starting point for a career dedicated to public health and HIV/AIDS and also one of the best ways to visit a completely new country and immerse into its unique culture.
Interns should be patient and adaptable to changes. They should be compassionate towards the people and should have the enthusiasm and passion for helping those in need. However, educational requirements and experience are not required for the internship.
Medical Internship Project In Tanzania
HIV and AIDS infection are rampant in African continent and so is in South Africa. It has destroyed many lives and has devastated many families. HIV internship project in South Africa helps to reduce HIV infection rate by counseling and to rehabilitate the affected communities.
Tanzanians living in the rural parts of Tanzania do not have easy access to medical services due to under resourcing and unaffordability. Global Crossroad collaborates with the local hospitals and clinics of Tanzania to provide medical service to locals of rural areas and internship opportunities to medical students from all parts of the world.
Interns will be performing basic medical duties like helping the doctors and medical professionals with daily check up and providing basic first aid care. The interns can shadow the doctors, nurses, health workers and therapists. They can also treat minor injuries and perform tasks such as, cleaning and bandaging wounds take the vital signs, record patient details and distribute medicines.
Internship in the Medical Project gets interns immersed into medical service in the rural communities. Shadowing medical professionals will help interns observe and learn, getting a firsthand experience providing medical services in the local communities, giving a good start to a medical profession ahead. Interns will have the chance to travel to a new place in order to learn something new and to give back to the community they are working on.
The intern for the health program must possess a health care certification such as an ID as a medical student, EMT or paramedic certification, or nursing or physician's credentials. Medical interns without credentials are not allowed to work in this program because of the potential risk. The hospitals require a copy of your resume, clearly stating credentials and education before your arrival to the project.
Supervision And Field Support
The interns in the internship project will be guided and supervised by an experienced and qualified supervisor. Usually the head of the project will be mentoring the interns throughout the internship duration, guiding them professionally towards the completion of the project. Depending on the qualification and time allotted for the project, interns may be required to pay an additional supervision fee of $25-$50 per week to the supervisor.
College Credit For Internship Project In Tanzania
Please note that Global Crossroad does not provide college credits for internship project. Our local office or your supervisor can give you a letter verifying the duration and project of your internship. If you need college credit for your internship, please contact your own university or college. You can also talk to your professor.
Room/Food
Mostly, interns in Tanzania will be staying in a home base, which is a permanent resident for volunteers and interns of Global Crossroad. The home base is located at a safe and clean neighborhood with easy accessibility to internet cafes, supermarkets, restaurants and bus stops. The rooms are comfortable, with several bedrooms having basic amenities, shared kitchens, shared bathrooms and a television for the interns. Bedrooms are generally shared with interns of the same gender. Furthermore, if the influx of interns is, high, they may even be placed with host families in simple houses at safe and clean neighborhood. Host families for Global Crossroad are well screened and are respectable community members.
Interns will be provided with meals three times a day (local food). Interns who require vegetarian food should specify it while filling up the application. However, other snacks and drinks outside the meal times will not be included. Orphanage Interns can stay in the s as well, as these s have extra rooms set aside for interns and volunteers, which are usually shared with other interns or volunteers.
Free Time
The Internship does not require interns to get involved in work 24/7. They will have free time in their hands during the evenings and during weekends, which they can use for interacting with other interns and visiting local areas nearby. Interns can make the most out of their free time, exploring the cities of Moshi and Arusha. They can visit national parks and conservation areas, go for safari trips, hike, visit Mt. Kilimanjaro and get dazzled by the spectacular landscapes of Tanzania.