Internship In Uganda
Want to join internship abroad program in Uganda to Gain real world experience and make a difference in the world?
Join one of Boundless Love's affordable internship programs in Uganda,
which offer an exhilarating challenge
of real-world experience combined with professional skill building and cultural immersion.
No matter what kind of internship experience you want to take part in, we can create a program that will suit your needs.
Internship Programs In Uganda
The most affordable rates, guaranteed. Starts at $145.
Pay fees directly to your host families and projects.
Safe and meaningful internship experience
A wide range of internship programs available… choose what suits you the best
If you are a keen lover of nature and wildlife, then this might be the thing for you. This is a perfect opportunity to come across a transformation and live your life like never before. Internship in Uganda will give you the best times of your life with the most exciting journey while serving for the people in Africa and help them bring a change for themselves.
Uganda known as the heart of Africa will amaze you with its natural wonders at every mile you travel. You can witness the source of the River Nile while encountering the most endangered mountain gorilla in the dense forest. You can explore finest national parks, alluring countryside, breathtaking waterfalls and serene rivers. Having sited the world's second largest lake, Lake Victoria, the country also boasts of its beautiful panoramic views, diverse wildlife and rich culture. Experience for yourself a wide range of adventures that will most certainly keep you captivated. From our various projects such as serving s, treating HIV AIDS, healthcare and teaching English, you can choose your desired field of area and set out for a lifetime trip to Uganda.
For more information on our projects and placements, contact our in country coordinator or drop us an email.
Dates: Internship In Uganda
All Internshiping opportunities in Uganda start every Monday, though we allow for flexibility due to travel constraints.
Price: Internship In Uganda
Most affordable quality Internship work in Uganda are available through Boundless Love. We strive to keep our costs low. The humanitarian side of the business is our passion. Boundless Love's Internship abroad in Uganda application and registration fee cost US $299.
In addition to the application fee, you are required to pay a weekly program fee. You will pay your weekly fee directly to your host family and project. This way, the fees that you pay will benefit those who rightfully deserve them, and not for company profit.
|     Duration | Orphanage/Teaching/Medical/HIV |
| --- | --- |
|   1 week |   $150 |
|   2 Weeks |   $250 |
|   3 Weeks |   $350 |
|   4 Weeks |   $450 |
|   5 Weeks |   $550 |
|   6 Weeks |   $650 |
|   7 Weeks |   $750 |
|   8 Weeks |   $850 |
|   9 Weeks |   $950 |
|   10 Weeks |   $1,050 |
|   11 Weeks |   $1,150 |
|   12 Weeks |   $1,250 |
Mandatory Comprehensive Travel Insurance $3.79/day
Airport Pick up $75
Program Fees Cover:
Accommodation (host family)
Food (local food 3 times a day)
Airport pickup
In-country support
Personalized project
Pre-departure information
Certificate of completion
Fundraising ideas and letters
Discount for returning volunteers
Program Fees Exclude:
Visas
Airfare
Personal expenses on soft drinks and foods
Daily transportation
Airport return transfer
The Uganda Internship opportunity program fees will cover expenses that will begin on the first day of the program to the last day of the program. If you arrive before the first day of the program or you decide you stay beyond your program's last day, you will be responsible for the additional expenses, which would typically be around $30 a day for room and meals at a hostel.
Internship Project At Orphanage In Uganda
The children in Uganda can do much better with your concern and contribution. Due to HIV Aids, poverty and other social disturbances, the children are struggling to get their basic rights. Through our internship project at s in Uganda, we send interns to help these destitute children get everything they deserve; education, food, shelter and much needed love and care. Be the one to change their lives forever and see them outshine.
Boundless Love is teamed up with 10 s in Uganda where you will be working for the children's welfare. The major duties include teaching English along with other subjects. The children can be mentored regarding issues such as cleanliness, personal hygiene and proper sanitation. The interns can train these children and teach them with skills that can help them flourish internally and externally. During afternoons and evenings, interns can engage the children in recreational activities and encourage them to partake in dancing, singing, poetry, drama and various sports activities. Interns can also assist the children with their home works, meals and daily chores. When children are busy on their own, interns can help the with their administrative works.
Tutoring unfortunate children with the life essentials and help them stand on their own is indeed a noble deed. This contribution shall in fact reward the interns in a great extent. We offer you a first class internship abroad experience at the best rate that is affordable and convenient. Those who want to involve in social work and dedicate their life serving for the needy can be highly benefitted by this internship project. The travelling experience to the land of beauty not only creates a memory of lifetime but lets you encounter a content smile and satisfaction while you are dedicating your time, effort and knowledge for their happiness and development.
You require no skills or prior experience to apply for this internship project. Since the project requires dealing with children, we would highly appreciate your patience, enthusiasm and affection towards children.
English Teaching Internship Project In Uganda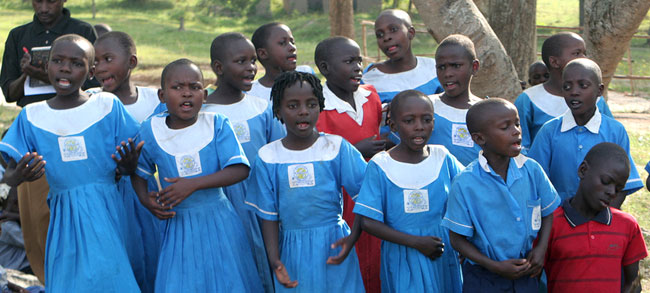 The Ugandans are lagging behind due to lack of English education. Only the rich ones get the privilege of acquiring English skills while the half of the Ugandan population lives under the poverty line making it impossible for them to afford the fees of private schools. This hinders their prospects for growth and better life opportunities. Through our link ups with the local public or government schools in Uganda, you can be a part of English teaching internship project to ensure a proper environment for English learning and enhancing the lives of many Ugandans.
You can assist the local teacher or work as an independent teacher depending upon your qualifications and experience. You will be teaching 2-3 hours a day in a primary or secondary school. The major tasks include teaching English to the children improving their listening, reading, speaking and writing skills and working on their grammar, vocabulary and punctuation. Activities can be arranged where children can participate and practice their English skills. Interns can assist main English teacher in revising the curriculum and modifying teaching techniques. During leisure time, interns can play with children and engage them in extracurricular activities like dancing, music, play, sports etc.
You can be part of a revolution with this experience of lifetime. By teaching English you can witness a tremendous growth in the country and be a reason for the youth to stand at equal competition with the world outside. It will overwhelm you with pleasure and excitement when you will travel alongside the beautiful lakes and encounter the natural wonders of the country. Add to it, the feeling of serving the needy and bringing a change in their lives. The feeling is beyond words. And to those willing to take teaching as a profession, this internship project will not only impart you with teaching techniques but broaden your horizon of classroom dynamics. A beautiful country and a great humanitarian act, a cherry on the icing of the cake, isn't it?
This internship project does not require any skills or qualifications. Anyone with a passion towards teaching and love for children can apply for this internship project. It is important to have strong English skills; non native English speakers can apply too.
Healthcare And Medical Internship Project In Uganda
There is an urgent need of doctors, nurses and medical practitioners in Uganda due to the lack of skilled manpower and sufficient resources in the hospitals and clinics outlying Uganda. As a result, health of many people is at risk. You can bring a change in the health scenario of Uganda and make a remarkable imprint on your life by saving the lives of many. Healthcare and medical internship project in Uganda offers you an opportunity of lifetime to serve for those craving for medical assistance.
Your role may vary as per your interest, qualifications and experience. Interns do not perform surgeries or handle major cases but assist the local doctors or nurses in their day to day operations. The major tasks include measuring blood pressure, temperature, height and weight. The interns can opt for routine checkups, daily rounds, providing first aid care and prescribing medicines. Interns can involve in therapy or counseling activities to raise awareness among the people and educate them about the prevailing diseases and its consequences. Interns can also help the hospitals with their administrative works along with providing tips regarding health, nutrition and diet.
Healthcare and medical internship in Uganda is of great advantage to aspiring doctors or nurses that will impart these interns with an on field experience. It is a grand learning opportunity to work in a hospital under the supervision of experienced doctors. Not only will you learn medical terms and practices, this internship project can hone your medical skills and techniques. The wonderful travel to Uganda and your stay with the native people will help you immerse into the culture and familiarize you with its roots. Besides your medical honing, you will get a chance to encounter a different world with its own essence and charm. In addition, you can make a difference in the Ugandan's lives and upgrade their health leading to an improved and quality life.
Since the project concerns health matters, it is mandatory for the interns to submit their medical credentials. All the documents are to be provided before their arrival to the project centre.
Awareness Of HIV AIDS Internship Project In Uganda
Since the first outbreak of HIV AIDS, there has been tremendous increase in the mortality rate of Africa. It has become challenging to stop this epidemic and prevent people to suffer from it. Not only men and women, but more than hundreds of children are born with HIV. Awareness of HIV AIDS internship project in Uganda is an effort to help the Ugandans keep away from this hazardous disease and lead a safe and healthy life.
The HIV AIDS awareness internship entails two kinds of projects. Interns can work with the local organizations that treat the HIV infected patients and distribute medicine, clothes, food and shelter. Interns can spend time with them and endow them with love and care. Second, interns can also launch awareness campaigns and visit villages or nearby communities to raise awareness in people about this epidemic. Interns can start counseling to educate people of its transmission and preventive measures.
The experience of internship in the HIV/AIDS awareness project is extremely beneficial to kick start your career in social service and head towards building a good humanitarian traits in you. This internship will not only help boost your career but presents you with a life changing experience. The internship will give you a closer picture of how millions of people are getting trapped day by day and are humiliated by the society they live in. You can contribute in saving their lives by creating awareness to prevent its spread further. There is nothing nobler than saving lives in this world. Besides internship, you also get a wonderful trip to Uganda where you enjoy the exotic beauty experiencing a wide range of adventures.
You do not require any skills or qualifications for Uganda HIV AIDS internship project. You should have a strong will to work with the HIV infected patients and be enthusiastic in helping to prevent its spread further by informing and educating people of its transmission and consequences.
Supervision And Field Support
In our internship programs, the interns are directed by a group of mentors or supervisors for a proper guidance and effective learning. These supervisors are experienced and qualified in their respective fields and will ensure the interns face no problems while their stay at Uganda. They are most likely to be the head of the project you are assigned on. You might have to pay an additional cost to the supervisors depending upon your qualifications and time allotted by the supervisors. Please communicate with our office or our country coordinator if you need personal supervision to help you in your completion of your internship project.
College Credit For Internship Project In Uganda
Boundless Love does not provide our interns with college credit for internship projects. Our local office or your supervisor will provide you with a letter and certificate on the completion of your program verifying your work as an intern and your job responsibilities as an intern. You can earn an academic credit for internship projects at Uganda by pre arranging the project with your college/university. The students shall have to coordinate with their faculties and professors regarding the college credit for internship prior to applying for Boundless Love.
Room/Food
Boundless Love arranges for shelter and food throughout your stay in Uganda. We have home base, host families or project hostels to locate our interns. The home base in Uganda is situated at Kampala. The home base ensures a comfortable room equipped with all necessary facilities and proper security. The rooms in home base have multiple beds for you to share the room with many other interns giving ample opportunities to interact with people from different backgrounds. Home base is only a few miles away from the local bus station, local market, departmental stores, restaurants and cafés making your stay easier. Interns can communicate with our in-country coordinator in case of any problems. Our in-country coordinator is located at the home base and is ready to help 24/7.
Depending upon the season and flow of interns, you can be positioned either at project hostel or host families. Our host families and project hostels are used to having interns from different countries stay at their place and are equally delighted to welcome the international interns with homely environment. The experience of staying with the host families will help you learn vividly about the people, their culture and local food. The stay at project hostel is likely to be at s. The s have special arrangements to ensure proper meals and housing for international interns.
Boundless Love has provisions for three meals per day; breakfast, lunch and dinner. Breakfast and dinner is served at the home base and lunch is normally arranged at project center. A personalized internship placement document will be presented to you detailing the accommodations, food and contact details of the local coordinator and the supervisor prior to your arrival.
Free Time
Our internship programs are not only limited to working at internship project centers but give our interns leisure time to travel and feel the country. Interns can enjoy their leisure time on weekends and evenings. We do not arrange for sightseeing and other recreational activities however our local staffs and in country coordinator shall help to provide all the information necessary. Uganda has in stored many things for you to make your stay a memorable one. You can roam around the bustling city of Kampala and see the source of Nile, Bujagali Falls and Owen Falls Dam in Jinja, the second largest town in Uganda. To get close and personal with the nature and wildlife, you can explore the Murchison Falls National Park, Lake Mburo National Park, Kidepo Valley National Park, Queen Elizabeth National Park and Bwindi Impenetrable Forest.