How Much Does It Cost
To Volunteer Abroad?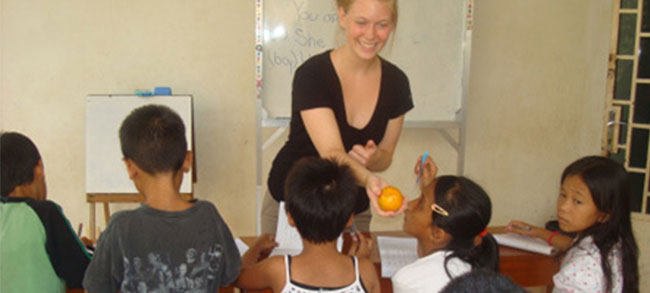 The idea of volunteering abroad can be very attractive, and now, more and more people are choosing to take time off to help others in a foreign land. The experience you'll have is one you'll never forget – you will meet lifelong friends and get to see the world. But this experience does not come for free. Volunteering abroad does cost money, and it's best if you become familiar with all of the volunteer abroad expenses before you pick an organization.
If you've been researching different volunteer abroad organizations, you may have noticed that, generally, there is an application (or registration) fee, and a program fee. Extra fees may apply if you participate in an optional orientation or a very specialized program. You should also be aware that what you're paying to the volunteer organization only applies to costs associated with your organization and program, therefore you need to cover any additional costs that apply only to you, such as airfare, etc. Volunteering abroad expenses are covered in more detail in the questions below.
How Much Does It Cost To Volunteer Abroad?
The amount you'll be paying depends on many factors – the organization you're using, the country you're visiting, the program you're taking part in, the length of your stay, and much more. For instance, volunteering in a poorer country like Nepal will be a bit cheaper than in a developing country like Brazil. Volunteering in an is cheaper than doing a medical program, which usually has additional charges for supplies, etc. The cost of a volunteer abroad program can range anywhere from $200 to $3000 just for 2 weeks. It's important to carefully compare programs to make sure you're paying a reasonable price.
What Do Fees Cover?
Although this varies depending on the organization and program, in general your application (registration) fee covers the organization's administration costs, including advertising, utilities, rent, employee salaries, and other business expenses. Your program fee, on the other hand, will generally cover in-country costs, such as room and board, local office expenses, and a project donation. Sometimes organizations will have you pay your host families and your project donations directly to the local individuals, so you know that the local community is benefitting from your money. When researching program costs, check to see if your organization's website provides a transparent allocation of fees.
What Other Costs Should I Be Aware Of?
The volunteer abroad expenses you pay to your volunteer organization will not cover everything you need for volunteering abroad. Some of the main things that you will be paying for on your own are: airfare, visas, vaccinations, travel insurance, and any other personal expenses. If you are participating in a more specialized project, such as a medical/healthcare project, you may need to pay additional costs for things like medical supplies. Also, many organizations offer orientation programs that include intensive language training and other valuable things. This is usually optional, and will be at an additional cost to the volunteer.
Where Does The Money Go?
As described above, your volunteer abroad costs will be divided in certain ways (as determined by the organization). Money for room and board will be going to your host family or volunteer housing. The best organizations will insist that the volunteer pay their host families directly, so that they know for sure the money is going to people who need it, rather than for the profit of the organization. This is the same for your project donation. Many organizations will ask you to pay this directly to the project coordinators. Talk with your organization to see if they do this.
The rest of the fees will go to your organization's needs, such as salaries for its workers, promotional materials, and advertising – things that keep the organization running. If you find that too much of your money is going to the organization and not to your host family or local community, it may not be the best organization to choose to volunteer abroad.
Do My Host Family And Volunteer Project Get Money? How Much?
Your host family and local volunteer project will receive money as part of your volunteer abroad costs. The amount depends on the country and the project. For instance, research shows that host families get $50- $200 per month depending on the country. In general, your host family receives 60-80% of your monthly program fees, while your project receives 10-20%. As mentioned above, some volunteer organizations will have you pay this directly to the host family or project, rather than going through the organization.
Will There Be Any Grant, Discount Or Deals From Volunteer Organizations?
Volunteer abroad organizations do not usually offer grants or discounts to volunteers because their fees are dependent on the number of volunteers they have. Most organizations are also non-governmental, so they don't receive any government funding and are dependent on volunteer money. In some special cases, however, there may be project discounts available if it is a low season or if volunteers are desperately needed. Speak with your organization about your options.
Is There Any Way To Reduce The Cost?
Volunteering abroad can get very expensive. The first thing you want to do to reduce costs as much as possible is choose a well respected and reasonably priced volunteer organization. Research and compare volunteer organizations online and talk to friends and family that have volunteered abroad. Ask how much they spent and if they have any tips on how to reduce costs or which programs are the best. Once you pick an organization, their application and program fees are generally not negotiable, so make sure you pick an organization whose prices make you feel comfortable.
The next thing you can do is plan ahead to reduce the cost of things that you as a volunteer will have to incur, such as flights, vaccinations, visa, travel insurance, and more. As soon as you know where you want to go, start researching the cost of flights. Set up travel alerts at different airfare websites, and do research on which companies offer the best prices and at what time of the year. Sometimes traveling during off-peak months leads to cheaper tickets. For vaccinations, check if things can be covered under health insurance, or if there is a community clinic that offers free or low price medical services. Visa prices generally don't fluctuate, but be sure to plan ahead to see if you need to buy your visa before your trip, or once you arrive to your host country. Many times, buying beforehand is cheaper. As for travel insurance, there are many different agencies available. Research and read reviews to find out what is the most reasonably priced for what is offered. Talk to friends that have bought travel insurance and see what they recommend.
Do I Need Extra Money? Why? How Much?
It is a good idea to bring extra spending money with you when you volunteer abroad. Your organization will general provide housing and at least 2 meals a day for you, but you may need money for extra food, souvenirs, travel, transportation, and nights out. The amount you need depends on what you plan to do during your time abroad. If you want to travel a lot, go out to local restaurants, and buy souvenirs, you will need money to do all of that. Create a budget for yourself and make sure to check the local country's currency exchange rate to determine how much you might need to bring.
Is There A Deadline To Pay Fees?
Most programs run on a rolling basis, so there is no specific deadline. Other programs, such as teaching programs, are seasonal, so you may need to apply and pay by a certain date. You need to check these details with your volunteer organization to ensure you pay everything in time.
What Happens If I Need To Cancel?
Each volunteer organization will have a different policy regarding cancellations, so you need to check with them. Some organizations will give you a full refund upon cancellation up to 30 days before your departure, while others will not refund your money at all. Speak with your volunteer organization or look at their website to find their policies.
Can I Raise Funds? How?
Oftentimes people choose to fundraise for their trips abroad if they decide they cannot cover part or all of the costs needed. There are many different ways to fundraise for your trip abroad – as long as you explain your story and are passionate about wanting to volunteer and help others, there's a good chance you will meet your fundraising goal. Write a letter to your friends and family, start a crowd funding campaign, or host a fundraising party.